Your Easter Visit

20 minutes of perfect princess fun with one of our princesses! Enjoy a meet and greet, lots of singing and dancing, themed games and an Easter treat!
Our princesses have travelled all the way from their castles to meet lots of children throughout the Easter holidays this year!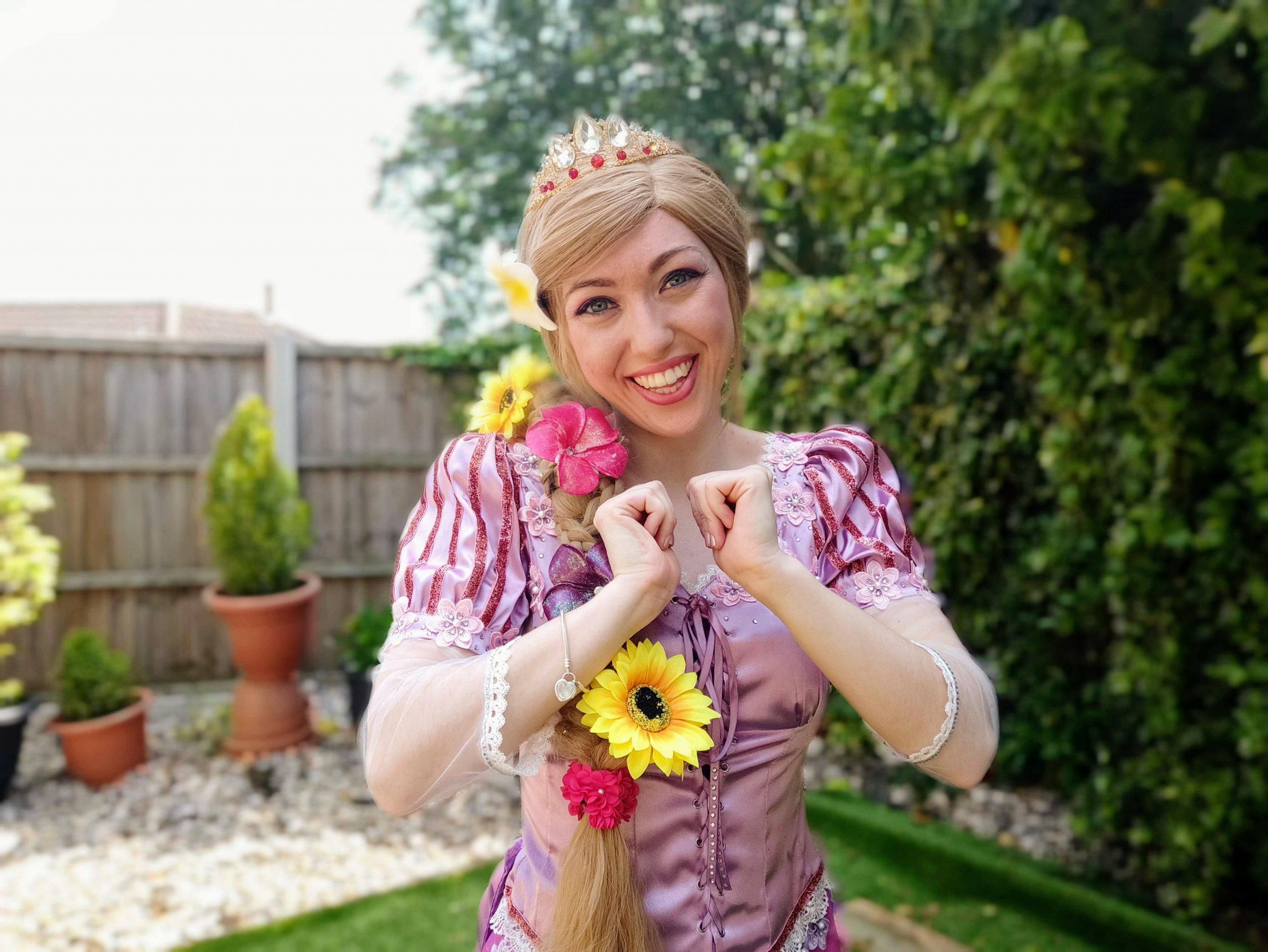 Princess Easter Package

Grand Entrance
Your little one won't believe their eyes when the princess arrives in her beautiful outfit!
Princess Dance
The princess will teach the children a royal dance, and they will all perform it together to one of their favourite songs!
Live Singing Performance
The princess will sing their favourite song, giving all the children a chance to sing their hearts out!
Arts and Crafts
The princess will host an arts and crafts activity where your child will create a fun easter craft.
Easter Gift
The princess will give each child at the visit an Easter present!
Kelly Coulson
2021-05-27T11:45:30+0000
Absolutely outstanding can not express how impressed we are with prettiest parties. Samantha had the guests both adults and children alike enthralled from the moment she arrived. Very professional and engaged with every single child helping them overcome their shyness. Each and every child was included equally. I can not recommend their services enough and will definitely be booking again in the future xxxx
Kay Rúffé
2021-04-21T17:29:13+0000
If your child is as obsessed with Princesses, as mine is, you must, must, MUST book Samantha/Prettiest Parties. We booked the Mermaid Princess for my daughters party and she was simply amazing with the children. The costume was top quality and the interaction with the children was first class. My daughter and her friends enjoyed every single minute. The attention to detail was top notch. To top it off Samantha is a really good singer, making the experience that much more magical! Thank you so much for making my daughters party extra special for her!xxx
Roxy Isabel Espinosa
2021-04-10T16:56:50+0000
Ariel is amazing!!! Made my daughters birthday so magical 💫💜👑
Susie Belle
2021-04-04T14:18:15+0000
We had rapunzel join us for Easter she was fabulous. So good with our children and everyone had loads of fun. Easy to book, flexible with great communication I would def book again and have recommended her to friends. Thank you so much. We just booked the rose princess (Belle) and Samantha was as amazing as ever. I really can't recommend her highly enough - I think the fact I booked her twice in the space of 3 months is testament to that. We had an end of term party today and once again she turned a little event into a magical occasion. Thank you x
Chloe Taylor
2021-03-28T15:27:53+0000
My daughter had the most magical time , would highly recommend and will definitely book again in the future! Thank you for making my daughters birthday 💗
Laura Frances Royce
2021-02-08T09:01:10+0000
We had the Tangled princess leave a birthday message. My children were amazed how she "knew" so much about them and to my amazement, joined in with the game/song actions. Wonderful to see their happy faces watching the message. Thank you 😍
Jessica Marr
2021-01-16T21:14:44+0000
Highly recommend Elsa was amazing my daughter was a little nervous and shy and Elsa really made her feel at ease and done whatever she wanted to play and do highly recommend and would use again xx
Michael Broadbent
2020-12-19T23:52:53+0000
Wow what can I say, Samantha was amazing, absolutely fantastic and really made my daughter's day. I wouldn't hesitate at all to books Samantha again. Thank you so much 🎄
Carol Thompsett
2020-12-06T17:45:19+0000
Samantha was amazing with my two children during her elf visit this weekend & also so accommodating when we were planning it too which helped make the experience even more personal. Thank you so much & we would love to see you again soon (as a princess next time) 😉 xx
Hollie Ford
2020-11-28T21:24:48+0000
fantastic. my daughter really loved every minute great for all kids ages. puts a smile on everyone's face. would definitely recommend. plays the part really well. my daughter is very shy and by the end didnt want her to go. she carrys on regardless and encouraged her to come and sit
Victoria Sully
2020-11-01T11:13:49+0000
My 4 and 3 year old who are usually very shy LOVED a visit from superwoman yesterday. Thank you so much x
Kat Fawcett
2020-10-03T19:51:57+0000
Wow what a fantastic afternoon my children had and the grown ups. My daughter was gobsmacked that her favourite princess had come to visit. Thank you once again, cant wait to have you again.
Kezz Bradford
2020-09-19T17:30:02+0000
thank you so so much you have made 3 little princesses so happy they have been buzzing all day since you left and haven't stopped asking when they can see you next 100,% recommend fantastic 😘
Glen Worrell
2020-09-12T20:11:09+0000
What a fantastic time the children had today. Great fun and can thoroughly recommend. Thank you so much. The children loved it 👏
Jacqui Ponting
2020-07-29T16:20:38+0000
I can not recommend prettiest parties enough elsa was amazing kids loved it an adults did to x
Marie De Diego
2020-07-12T20:01:46+0000
Thank you Samatha for giving us all an amazing time. I have worked in childcare for 16 years and I have never seen such amazing talents . You keep us all very entertained and the experience was so real. You were astonishing in every way. My granddaughter was amazed you made her birthday a day we will all never forget. The experience was outstanding from the minute I contact you had good communication and showed kindness and from the minute the birthday girl meet you she was in a dream. Thank you so much from all of us. 5 ***** x
Megan Cornwell
2020-07-01T21:14:26+0000
We had the best time at our socially distanced, birthday get together in the garden this morning. The children were absolutely gobsmacked when Elsa arrived. Samantha is wonderful at engaging with them all and getting them to join in, the most perfect surprise for our children who have been in lockdown for over 15 weeks. I won't hesitate to rebook when it's my daughters birthday in December. Thank you so much ❤️
Natalie Elkins
2020-04-18T16:05:49+0000
I cant thankyou enough for your kindness , the fact you took time out of your day to do a video for my little girl is amazing. You have made her entire face light up in awe. It was a amazing video , thankyou ❤
Hannah Hargrave
2020-04-18T15:45:57+0000
Absolutely amazing! Not only professional and very talented, but a genuinely lovely person too. My little girl adores her. Thank you!
Sammi-Jo Roberts
2020-04-18T13:31:13+0000
Can't recommend highly enough!! Such a thoughtful and lovely lady to be spending her time cheering up the little ones! Thank you for the special videos you have done for my niece she loves them!
Louise Lawrence
2020-04-01T09:07:05+0000
Would highly recommend prettiest parties! We first had a visit from a lovely elf on Christmas Eve and then a video call with Elsa! My little girl was over the moon and joined in all the dances and activities! Thank you so much for spreading happiness!
Natalie Perry
2020-03-31T10:03:45+0000
An amazing experience for the children they loved every minute else was here. The children were entertained data for almost 2 hours and the kids loved it. Would highly recommend this amazing young ladyxxx
Sal Anney
2020-03-26T11:04:09+0000
Thank you so much for making the day of a three year old stuck in isolation. The video sent (at short notice!) was great! Taught them a dance too. Professional, reliable service and so kind and helpful to do this so quickly. We will be using you once this is over.
Molly Brett
2020-03-26T00:16:13+0000
My daughter loved her personalised video from the snow queen, she had none stopped kept on asking to watch it.. loved watching her reaction there is nothing better than watching your child's face light up and that's exactly what this video has done. Thank you !
Isabell Drake
2020-03-25T22:08:01+0000
We received a personalised video from the Snow Queen today. My 3yo daughter absolutely loved it! Can't thank you enough Prettiest Parties ❤️
Seema Jassal
2020-03-20T21:07:39+0000
The snow queen has just made my little girls' day today. Out of the very kindness of her heart, she sent them a personalised video message to bring some cheer during this difficult time of the corona virus. Thank you ever so much again - they have watched it over and over again xxx
Tamar Wolfson
2020-03-20T21:01:45+0000
Thank you so much for the lovely personalised snow queen video. My 4 year old was thrilled and loved joining in. She wanted to go and get her dressing up on straight away! It really cheered us all up and was such a lovely thing to do and I really appreciate the kindness and thought that went into it.
Amanda Waterlow
2020-03-19T05:32:53+0000
Anna came to my house for my daughter's 4th birthday and she was just as good, if not better, than the princesses in Disneyland. Both my daughters were engaged from start to finish and even all the adults were singing along. She generously gave the girls bracelets and beautiful bows too, which they wore to school the next day to show all their friends 😍
Samantha Jane Montgomery
2020-03-09T18:20:23+0000
We had an amazing time this evening for my daughters 5th birthday. The unicorn princess was so much fun! Loads of dancing, singing, crafts and fun! Thank you so much for an appearance my daughter will never forget! Thank you 😘😘🦄🦄🦄🦄
Caroline Cazzy B
2020-03-01T20:25:31+0000
Elsa attended my daughters 5th birthday party today from the moment she walked in my daughter was amazed. Elsa has all the children entertained the whole time 💖 thank you so much for making her so happy xx
Debbie Mackerness
2020-01-26T22:57:17+0000
Thank you for making my grand daughter Lillie-Mae's 4th Birthday extra special she was memorised by you, (we all were) she loved singing along with Elsa she knew all the words and she now believes she's a princess with powers, she keeps freezing us all. I would highly recommend for children's parties makes it that extra special. You was brilliant. Big thumbs up X
Jade Michelle Mackerness
2020-01-26T20:37:15+0000
We Had The Snow Queen Visit Today For Our Lillie-Maes 4th Birthday! The Snow Queen Was Absolutely Amazing! The Best Singing Voice & Our Lillie-Mae Couldn't Take Her Eyes Off Her, You Made Her Day ❄️ My Whole Family Was Amazed! Very Professional, Friendly And Stayed Completely In Character ☃️❄️🌬 We Will Be Booking With You Again For Sure. Keep Making Little Girls Dreams Come True, You Surely Did For Our Lillie-Mae 💙❄️
Lisa Bostock
2020-01-20T20:09:47+0000
We booked The snow queen to come to my daughters 3rd birthday party and she was brilliant, all the kids were up singing a long and even a couple of the mums wanted the snow queens details to book for their parties! 5 stars from us!! Will definitely book again xx
Hayleigh Galloway
2020-01-12T19:46:40+0000
I am absolutely blown away with how the party went. We had a visit from the rose princess and from the start my little girl was absorbed into the activities and the Princess. Even after the party had finished she kept going on and wants her to come back to her next birthday party. Which has completely made my day knowing that my little girl had the party of her dreams all because of our special visit. I so recommend prettiest parties and the packages available are so worth the money. We had the 2 hour package and I would spend the money all over again for the look on my little girl's face and for the memories she has come away from her party with. Thank you so much xx
Hayley Emma Loughery
2020-01-06T18:28:17+0000
The snow Queen visited my daughter for her 4th birthday this weekend and she was truly magical! From the moment she walked through the door all the children were enthralled! She did an amazing job of entertaining the children (and adults) from singing, to party games and story telling, nothing was too much trouble and she did a great job of keeping everyone's attention. I have had nothing but compliments about the party and especially the Snow Queen, it's all the children will talk about (2 days later!) and my daughter says it was "the bestest day ever" so I think that pretty much sums it up! Thank you Samantha for making a little girls dream come true, you were truly fantastic and we highly recommend Prettiest Parties
Raj Sandhu Gill
2019-12-15T16:47:42+0000
We booked the elf visit and carol the elf was amazing. Kids and adults loved it. We all joined in. It made it a magical experience for the kids
Hayley Brooke
2019-12-14T20:58:52+0000
We had Candy the Christmas elf visit for our family Christmas Day today. It was brilliant! All 5 children loved it, fully believed in the magic (including my 12 year old!) and were engaged from start to finish. I would highly recommend Prettiest Parties!
Danniann Meech
2019-12-08T18:25:25+0000
My daughter and her friends had an incredible time this afternoon and really believed an elf had travelled to see them! We were so pleased as we'd managed to book just the day before. The children were entertained throughout and loved your singing voice! Was a great addition to my daughters Christmas party, would highly recommend 😃
Laura McEwan
2019-12-08T08:51:30+0000
We had Elsa at our school fete yesterday. Cannot recommend Prettiest Parties enough. She was absolutely fantastic! The kids loved her story time, singalongs and having their photo taken. Thank you so much!
Elise Richardson
2019-12-01T14:45:01+0000
My daughter had an amazing 4th birthday party thank you to Ariel and Rapunzel! They was amazing with all the children and everyone had such a good time! They made the party so special, thank you so much! 💕
Rachel Louise
2019-11-19T19:34:42+0000
My daughter had an amazing party, and absolutely adored the snow queen, she kept all the children mesmerised for 2 hours and they all still can't stop talking about it! Very impressed!
Catherine Wilson
2019-10-20T17:07:40+0000
I highly recommend this company.very professional and fast response and excellent price. repunzel came to my little girls birthday and she was absolutely amazing.
Jessica Kayode
2019-10-05T16:25:13+0000
My 6 year old had an AMAZING party with Princess Belle. All the children were mesmerised and were fully entertained for the whole 2 hours which made it so much easier for the parents. Would definitely recommend.
Samia Waller
2019-09-21T18:59:46+0000
Cinderella was amazing today at my daughters 6th birthday party. She kept all the children engaged, even the boys and a few of the older children that attended also. She helped by out all the lunch boxes and presented the cake. And any spillages she assisted cleaning up. Would recommend and invite at host another party. Thank you Cinderella, you made a little girls party very special today! Xx
Rea Nason
2019-09-03T13:33:26+0000
Ariel came to Chloe's 4th birthday, Samantha was brilliant with the children and they all loved the glitter tattoos. Thankyou x
Natalie Perry
2019-08-06T20:28:08+0000
An amazing performance the children truly loved her and for several hours held their attention. A great day had by all. Xx
Jamie Wainwright 父
2019-07-27T19:17:34+0000
We can't recommend prettiest parties enough for make our Freya the happiest little mermacorn on her birthday thank you so much for everything you did for her and look forward to seeing you next year
Katie Dalton
2019-07-27T05:54:08+0000
thank u for makeing my little girl party amazing and so special i have one happy little girl and would recommend u to everyone
Joanne Fielding
2019-07-21T20:33:29+0000
We had a last minute cancellation and Samantha came to our rescue. My daughter had the best 4th birthday party and Elsa was her favourite part. Very good with all the little guests and made everyone feel very special. We can't thank you enough and I would highly recommend for any party. Thank you
Bonnie Lolly
2019-07-15T12:44:23+0000
The Little Mermaid was amazing and so great with all the children! She sang beautifully, played games, done princess dancing and got everyone involved! 🌟🌟🌟🌟🌟
Alexandra Perry-Dean
2019-07-13T20:39:13+0000
What a wonderful party because of the fantastic Ariel. All the children were entertained from start to finish - highly recommend this lovely and very talented lady 😄🥳😄🥳
Tish Rutty
2019-06-29T06:54:14+0000
Thank you for attending Blenheim Primary School's Summer Fete. The children loved Ariel's performance and photo opportunities. We 100% recommend you.
Amy Muller
2019-06-10T13:15:54+0000
My son recently had Astrid come to his 6th Birthday party (He's How to train you're dragon obsessed!) Astrid was amazing. We was all blown away by her professionalism and the way she managed the boys at the party. They played games, sang songs, danced and had a general blast. Highly rate and wouldn't hesitate to book again for next year!
Lisa Riley
2019-06-10T07:12:48+0000
We met the Snow Queen yesterday and she was so warm and friendly!Your little ones (and big ones!) will adore her! ❄️ 👸
Next Reviews
Our princesses are available for Easter visits throughout the Easter holidays!
Easter Visits Booking Form