Baking is so much fun, and what better reason to bake than at Christmas! There are so many creative ideas that are great for a Christmas get together, or as a sweet treat! Take a look at my favourite Christmas party food ideas, and try some out yourself!
Decorative Christmas Cupcakes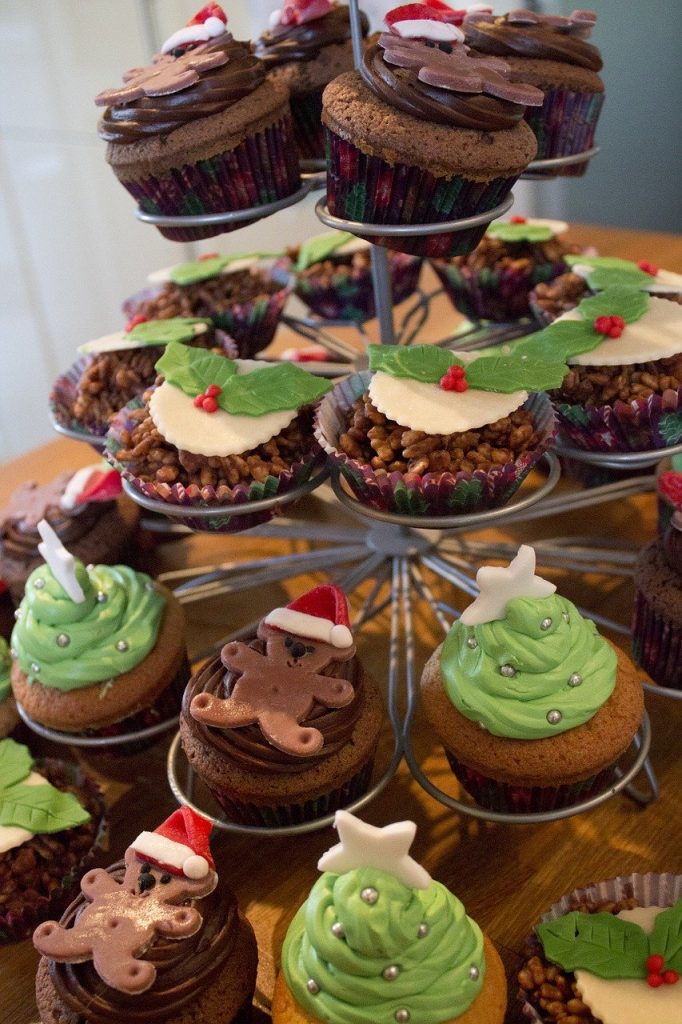 Decorating cupcakes to make them perfect for any Christmas occasion couldn't be easier! The children could have lots of fun too making and decorating the cupcakes!
To start off with, you will need some plain cupcakes. You can buy these ready made at your local grocery store, or you can have a go at making them yourself. You can use this recipe here to make 24 cupcakes.
To jazz up these plain and simple cupcakes, you can place them in Christmas themed cupcake cases. These can be patterned or in a single colour. Red, green and gold are perfect Christmas colours, and blue, silver and white are wonderful for a winter wonderland theme.
Then, make some butter cream and swirl it on top of the cupcakes! You can make butter-cream by mixing 600g of sifted icing sugar with 300g of softened and a couple of drops of vanilla extract. You can add some food colouring to the butter-cream to match their cupcake cases.
Once all the cakes have been coated with butter-cream, add a sugar Christmas figure onto each cupcake. These can range from snowmen, penguins, Christmas puddings, reindeer and lots more!
To add a bit of extra sparkle to your Christmas cupcakes, sprinkle some edible glitter on top of each cake!
Chocolate Cornflake Christmas Wreaths
These are so easy to make, and they taste delicious too! All you need is white chocolate, cornflakes, green food colouring and red sprinkles or sweets, like Smarties or Skittles, to be the berries on top of the wreaths.
First of all, chop up and melt the white chocolate. Once all the chocolate has melted, add in a couple of drops of green food colouring and stir until the chocolate has turned green.
Add in and stir the cornflakes with the melted chocolate, but be quick as the chocolate could harden!
Once it's all been stirred and mixed together, shape the mixture into lots of Christmas wreaths, and place them on baking paper so they can harden without sticking.
Finally, add the red sprinkles or sweets to the top of each wreath!
Christmas Themed Cookies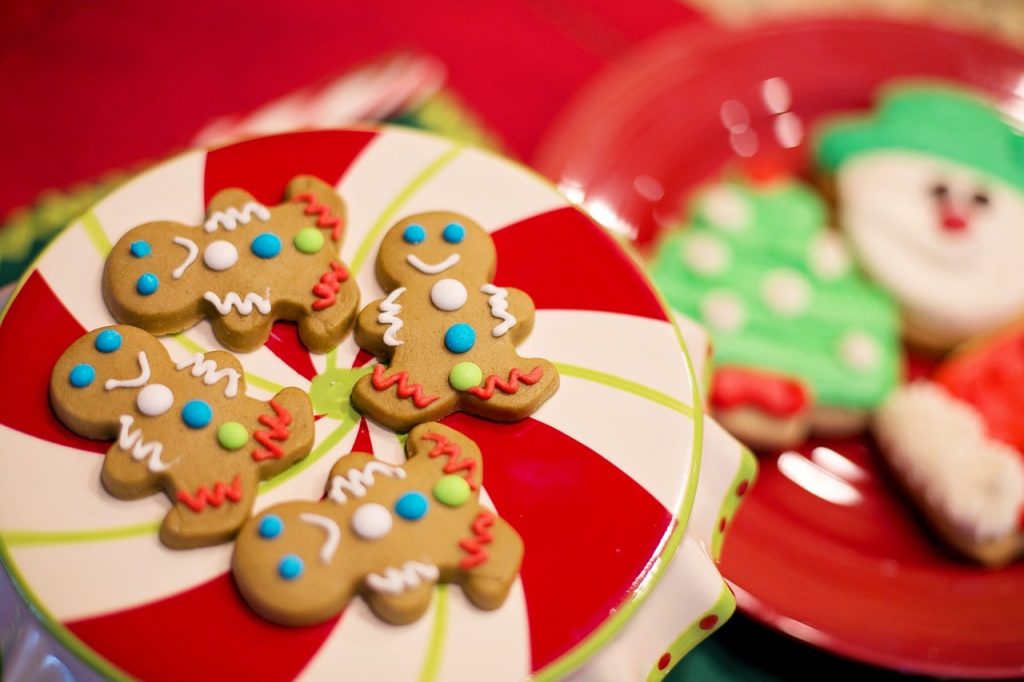 There are so many different kinds of Christmas themed cookies to make, from snowmen to snowflakes! Similar to the cupcakes, you can buy cookies ready to decorate, or make your own cookies with this recipe.
Your can smother your cookies in light blue icing, and carefully draw a snowflake on each cookie with white icing. Then, add some edible glitter to the cookies for that extra bit of sparkle!
Using a cookie cutter, you can make Christmas tree shaped cookies and decorate these with green coloured icing and sweets! With yellow fondant icing, you can make a small star to go on top of each Christmas cookie too!
You can make candy cane cookies too! Simply shape the cookie dough into the shape of a candy cane, or get candy cane shaped cookies from your local store, and decorate these with red and white striped icing!
Chocolate Digestives Christmas Puddings
These are quick and easy, and look really effective! The children would love getting involved in making these Christmas puddings out of chocolate digestives!
First, grab some chocolate digestives, milk or dark would both work great!
Make the green leaves and red berries that go on top of the Christmas pudding out of fondant icing whilst the white chocolate melts.
Dip the top part of each chocolate digestive into the melted white chocolate, and let it drip and drizzle down the biscuit slightly.
Add the fondant leaves and berries to the top of the melted chocolate on each biscuit and leave the biscuits to set!
Christmas Bauble Cookies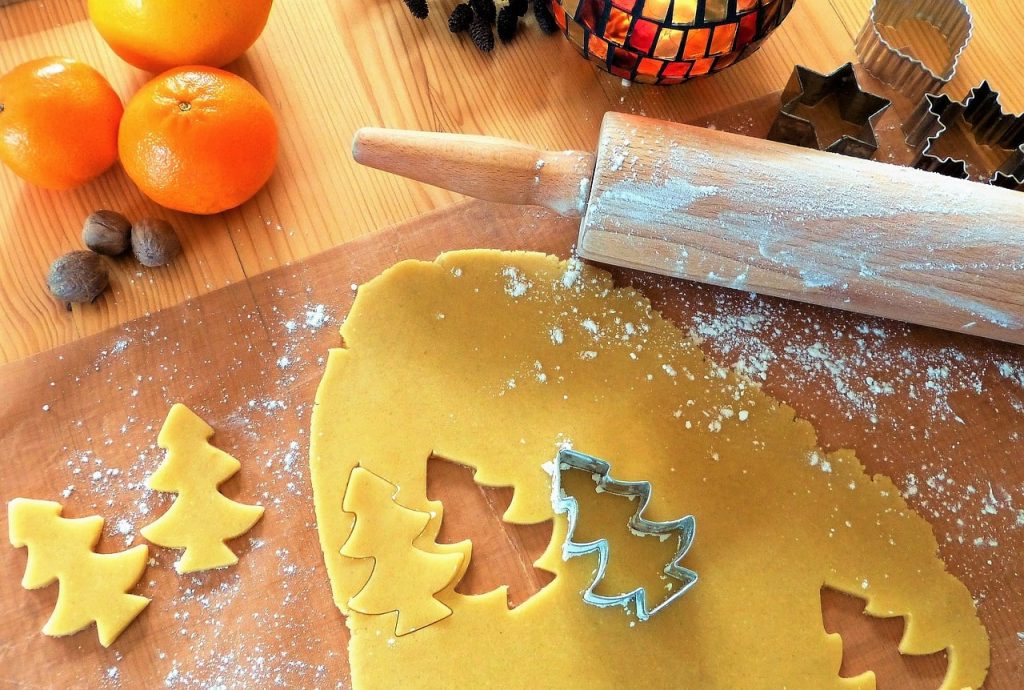 You can make edible Christmas baubles to hang on the tree! I love this idea, they're lots of fun to make and make a sweet addition to the Christmas tree, but they won't last long on my Christmas tree!
To make these Christmas bauble cookies, mix together 75g of softened butter, 100g of caster sugar and 40g of golden syrup before beating in 1 egg and adding a couple of drops of vanilla extract. Then, sift in 225g of plain flour and half a teaspoon of baking powder.
Mix the mixture in the mixing bowl and bring it together with your hand on a clean surface. Cover the mixture with cling-film and let it chill for at least 30 minutes.
Then, roll out the cookie dough until it is roughly 5mm thick, and cut out Christmas shapes to hang on the tree! Hobbycraft do some Christmas cookie cutters that are fun to decorate!
Pierce a hole at the top of each cookie, roughly 5mm. This is to tie the ribbon through so it can be hung on the Christmas tree. Then, leave to chill for 30 minutes.
Bake the cookies for 15 minutes at gas mark 4 until they are golden brown, and leave to cool on a wire rack.
Now it's time for my favourite part, decorating! You can decorate the cookies however you like! You can use coloured icing, melted chocolate, sweets and sprinkles!
Finally, hang your cookie Christmas baubles onto your Christmas tree!
Christmas Gingerbread House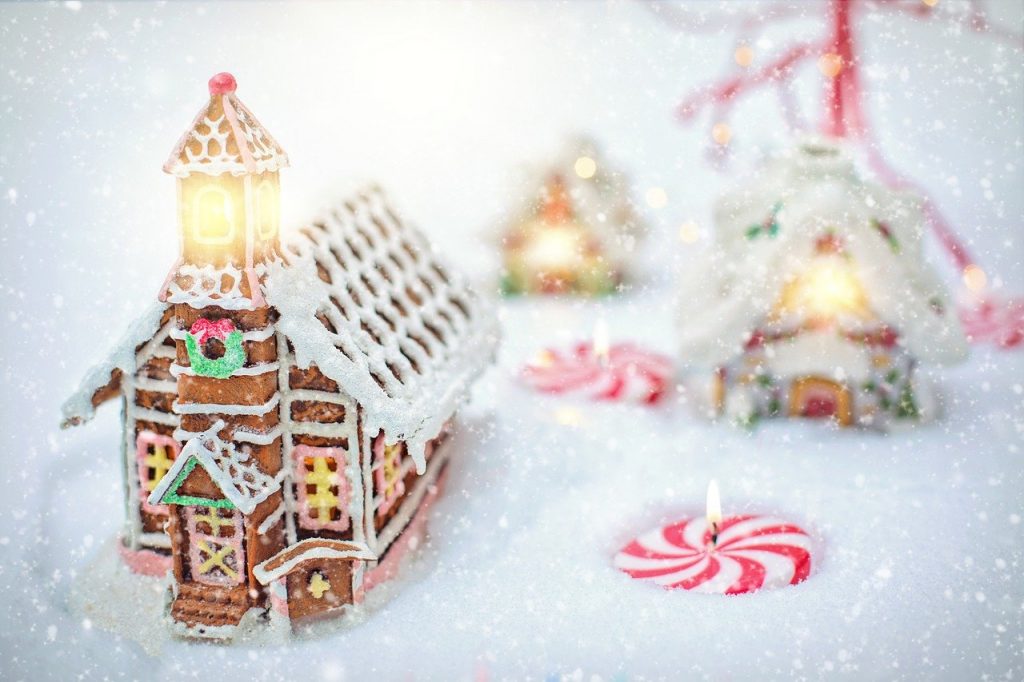 Christmas gingerbread houses are so festive! They look so cute and cosy, and they taste delicious! They can take quite a while to make, but it's lots of fun and it is a great activity for little ones to join in and help create a gingerbread house.
Here's a recipe and template to create your own Christmas gingerbread house.
I love Christmas gingerbread houses because you can be as creative as you like! You can personalise them and add your favourite sweets and chocolates!
Best Christmas Sweet Treat Ideas
Thank you for reading this article all about the Best Christmas Treat Ideas! Our Christmas character, Carol the Elf, loves making all of these sweet treats!