Throwing a princess party for your little one doesn't have to be expensive! From decorating ideas to party activities, here are my top tips and tricks and my best princess party ideas on a budget to help you create a wonderful princess party!
Small Guest List
Inviting fewer guests to the party is my top tip for keeping the princess party more affordable. Having a smaller party means less supplies, less food to buy and less stress!
They can also be more enjoyable for everyone involved as you can do more special things like arts and crafts and games, without too much chaos!
The Focal Table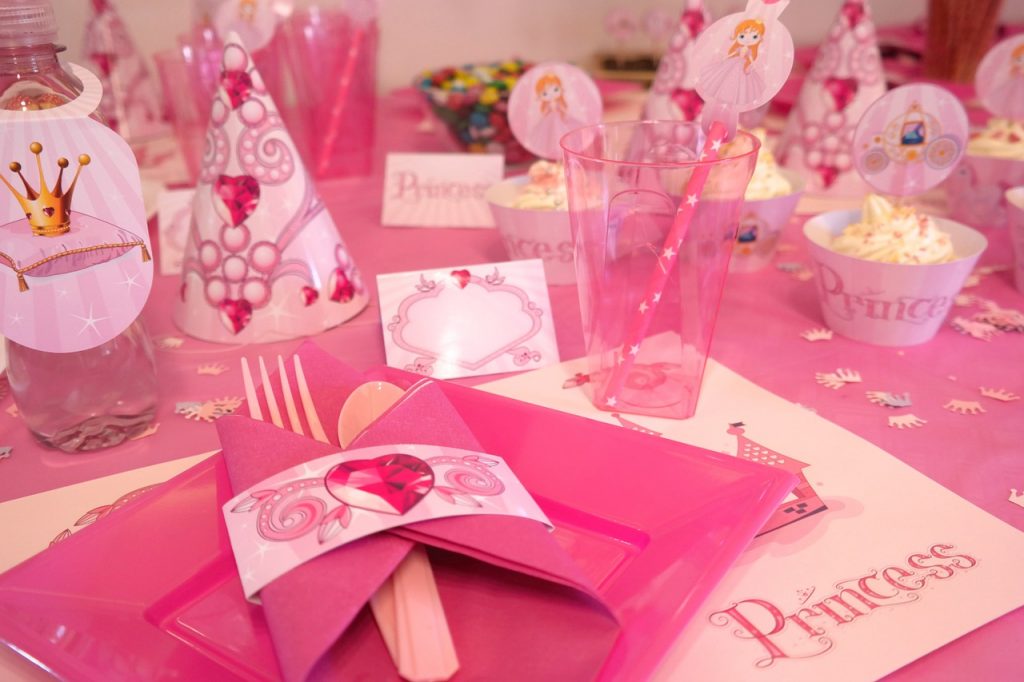 A focal table can really set the scene for a princess party! The food table or the dessert table are great ideas to have as the focal table. Plastic table cloths can create the backdrop, you can make them look like curtains by adding some sparkly ribbon for the tiebacks!
Hang some oversized paper lanterns and some large tissue balls too for a fun look the princesses will love!
Another backdrop idea is to use photographs and pictures! You can use small pegs to peg the photos and pictures to ribbon or string, then hang them vertically or horizontally behind the table.
If hanging them horizontally, make sure the ribbon or string is secure to prevent them from dropping!
These are brilliant ways to create a focal table without spending a fortune!
Decorations
I love fairy lights and Christmas lights! They make the room look so enchanting and exciting! You can also add the lights to the backdrop behind the focal table. For a more subtle twinkling effect, the lights can be hung behind the tablecloth.
Balloons are a timeless party decoration and there is a huge variety of balloons! You can get packs of multiple balloons, which are really good value. They look delightful and children love to play with balloons too, so they can act as a party activity!
Paper chains create a wonderful party decoration! They're so easy to make and all you need is long strips of paper and glue, but they can be time consuming. A great idea is to incorporate paper chain making into a craft activity that the party guests can enjoy! The paper chain that they've made can then be used in photos as part of the foreground or background.
Princess Party Food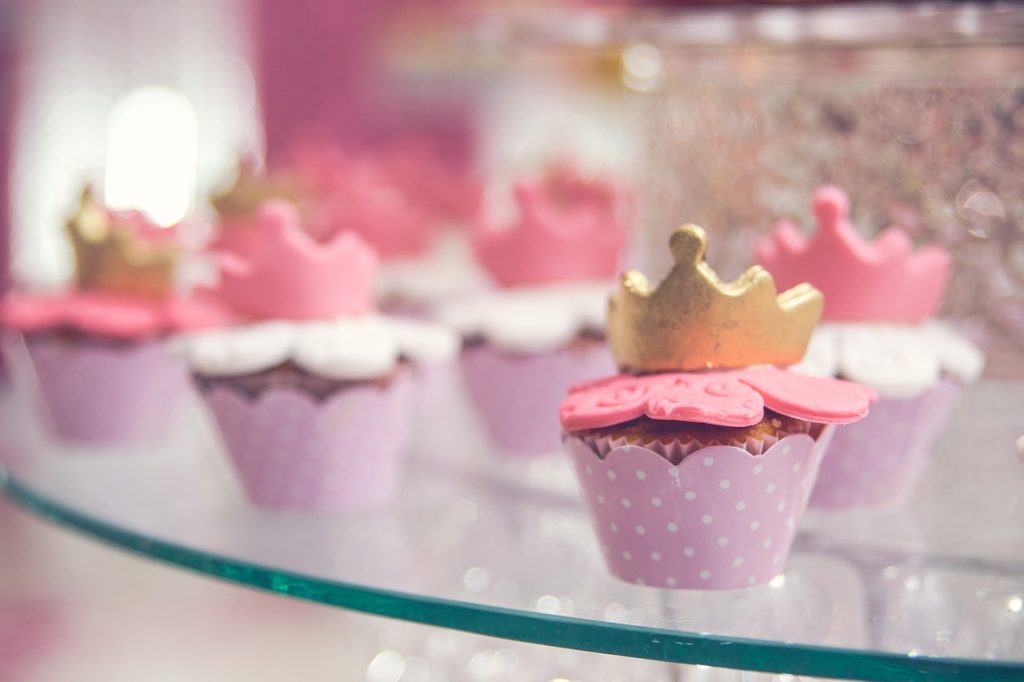 When it comes to food, there are many easy and creative ideas that will impress the party guests without blowing the budget.
Come up with some simple, princess themed names, like Fairy Godmother Cakes, Adorable Apple Slices, Tiara Sandwiches, and you can display a menu!
Use a frame, one that you already have, or a cheap one that can be decorated to match the theme. Add some coloured paper with the menu written or typed clearly, place this in the frame and have it shown on the food table! This lets the party guests know what is being served and it makes a lovely display piece!
For the food itself, you can make sandwiches and cut them using a cookie cutter into princess shapes, like a tiara and glass slippers. Placing fairy cakes in princess themed cupcake cases are a wonderful treat!
Using pretty ribbon, that matches the colour theme, to wrap around bottles of water makes drinking water that little bit more fun!
The best money saving tip when it comes to food is to plan the party in the middle of the afternoon, before dinner time and after lunch time, because you will only need to serve snacks instead of a whole meal!
Another option is to host a princess afternoon tea party, which is so cute!
For tasty drink ideas to go with your pretty princess food check out our article on the Best Princess Party Drink Ideas.
Pretty as a Princess
You can create a princess make up and hair station for the party guests to make them feel extra special!
Simply grab a few coloured nail varnishes and paint the girl's nails in pretty colours. You can use glitter nail varnish for extra sparkle! There are nail art pens, which you can use to draw simple patterns and shapes on their nails, like flowers, hearts and stars.
If the party guests are slightly older, they can paint their own nails, but make sure there's newspaper or a plastic tablecloth to prevent mess!
You can add some colourful eye shadow and sparkly lip gloss to the make up stations too!
For the hair station, you can braid the girl's hair and add flowers to the braid! This idea goes particularly well for a Rapunzel themed party. If you have curling tongs, you can curl the girl's hair into cute ringlets and add glitter hairspray to hold the curls in.
Photos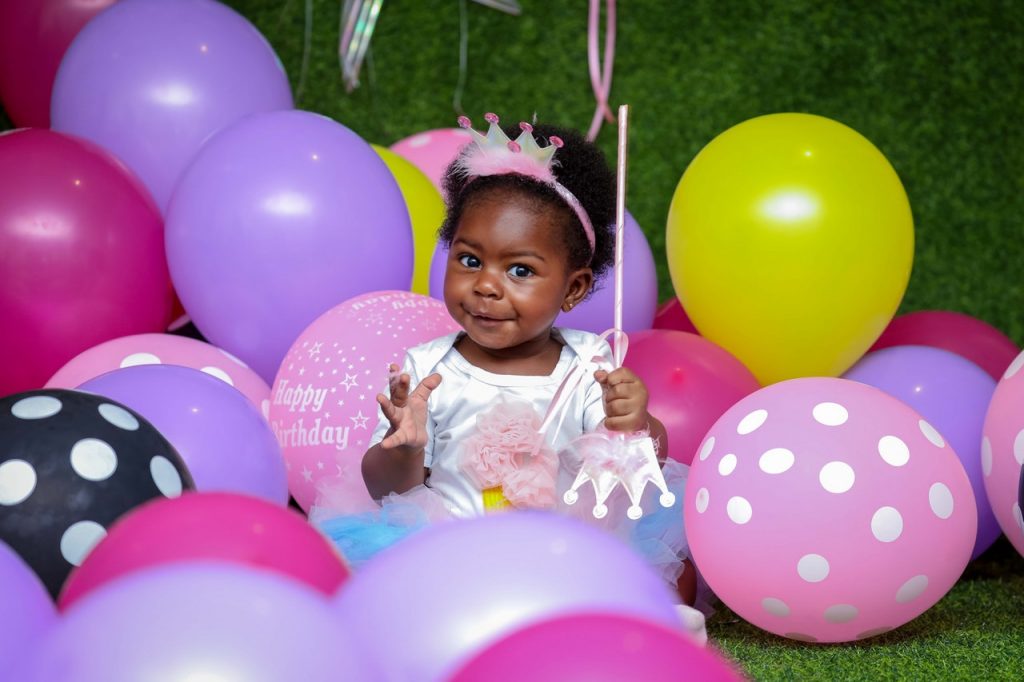 After the party princesses have been pampered at the hair and make up stations, they can have a mini photo shoot with a DIY photo backdrop! By creating the backdrop yourself, you can be as creative as you like and it is an affordable way for the princesses to take something home to remember the princess party!
Tape a curtain, shower curtain or table cloth on a wall. This may not hold on the wall for too long, but it should last for a mini princess photo shoot. For something more reliable, try using some string and a nail to hold it for a longer period of time.
I love fairy lights and they are a magical option to create a photo backdrop. Simply use tape or nails to hold the fairy lights on the wall. You can place a string of fairy lights in a particular shape, like a heart or a diamond shape, or place them completely randomly! You can use fairy lights at any time of day!
Using balloons in photos are brilliant for birthday parties! They're so much fun and there are so many different ways to use them for photos. You can stack them on top of each other, place a few in the background behind the party guests, let them float or you can take a few motion photos with the party guests throwing and catching the balloons!
Arts and Crafts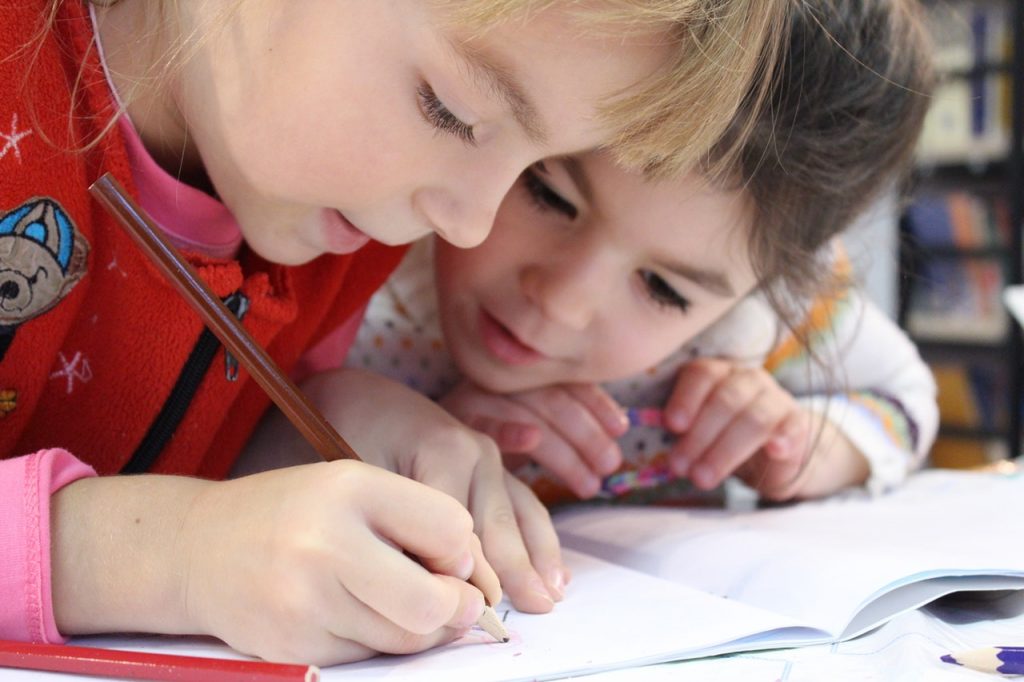 Little princesses love to get creative and make their own princess items! The cheapest craft idea is to print off non coloured princess pictures and have the party guests colour them in. They can use pencils, crayons or pens!
Crayola has a good selection of free princess colouring printables which are worth a look!
If using pens, make sure there's some newspaper or a plastic table cloth underneath the pictures in case the party guests colour over the paper or they can't find the lid to put back on the pens! This can keep the children busy, and they really enjoy it!
Another affordable craft is to provide plain card tiaras that the party guests can colour in! Once they have finished, staple the tiara in place to fit the head. You can get even more creative by having the party guests stick sequins with a glue stick, or by using princess stickers to stick on the tiara.
If you're thinking of having a mini photo shoot at the party, you can use the photo as a craft activity! Party guests can decorate cardboard picture frames before sticking their photo of themselves all dressed up and looking beautiful! These are really fun to do and they can be used instead of party bags!
For more fun arts and crafts ideas for princess parties check out our article on the Best Princess Party Arts and Crafts!
Princess Party Ideas on a Budget
We hope you found some of these princess party ideas on a budget useful for your own parties! Let us know what cool cheaper ideas you've come up with.