Party guests love having themed party food, especially if it's a princess party! Eating princess party food makes the party guests feel like royalty. Here are some of my favourite princess themed party food ideas, they're all simple to make and they look so clever and magical!
Princess Sandwiches
Princess sandwiches are a quick and easy idea to create some yummy party food! Make sandwiches with whatever filling you like and use a princess shaped cookie cutter to create sandwiches in princess shapes!
Cookie cutters shaped like a crown, castle or a glass slipper are great choices for a princess party theme. To prevent mess and for a more accurate princess sandwich, I suggest cutting the bread with the cookie cutters then filling the sandwiches, rather than the other way around.
For some extra sweetness, how about using my favourite sandwich filling… Chocolate spread!
Princess Pizza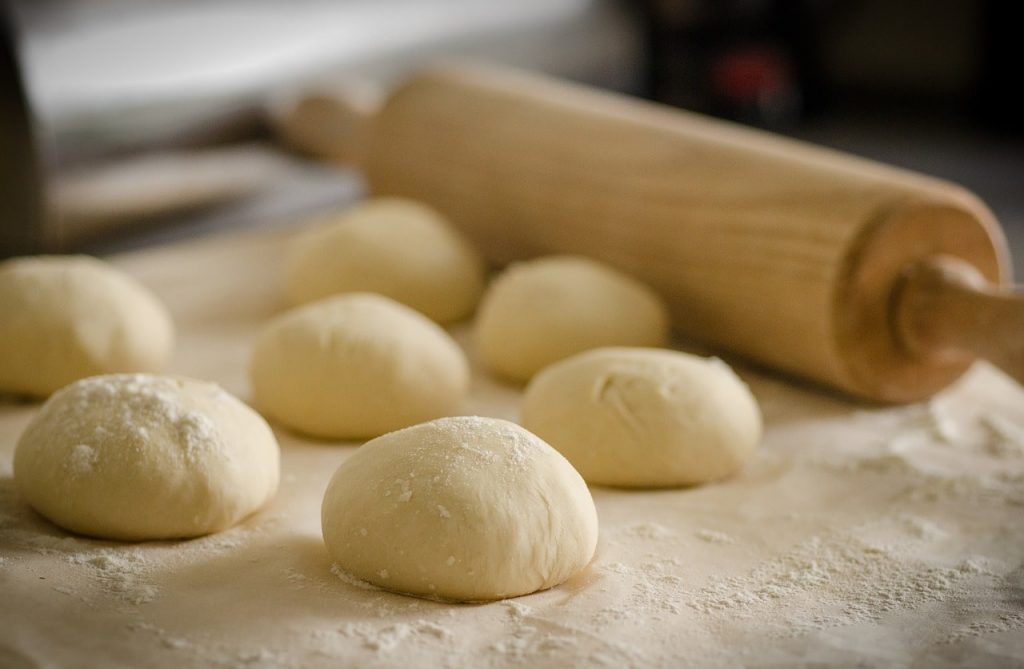 I love pizza, princesses and princess pizza! Princess pizza is so fun and simple to make and you can even get the party guests involved, which makes for a fun party activity! You can make the pizza dough from scratch using flour, water and a little bit of yeast or you can use a pizza base mix and just add warm water!
Once you've kneaded the pizza base ingredients to form a smooth and elastic dough, roll out the dough on a floured surface. Use princess shaped cookie cutters to shape the pizza base into princess shapes! If you haven't got princess shaped cookie cutters, you can create a crown shaped pizza by using a sharp knife.
Next, it's the fun part! This is where the party guests can get involved too! It's time to decorate the pizza with toppings! Once the pizzas have been topped, cook the pizzas until golden brown, leave to cool for a few minutes and you're ready to serve princess pizzas!
Fruit Wands
For a colourful and a more healthy princess treat, fruit wands are sure to go down well with the party guests!
Simply use a star cookie cutter to cut star shapes from fruit. Melon and pineapple are great fruits to use as the star. This star shaped fruit will be the top of the wand. Then use your favourite colourful fruits like grapes, strawberries and bananas. Cut these up in small pieces to prevent choking in small children.
Next, skewer the fruit with the star shaped fruit on top. These magical, tasty wands are a sweet princess treat all the party guests will love!
Princess Cupcakes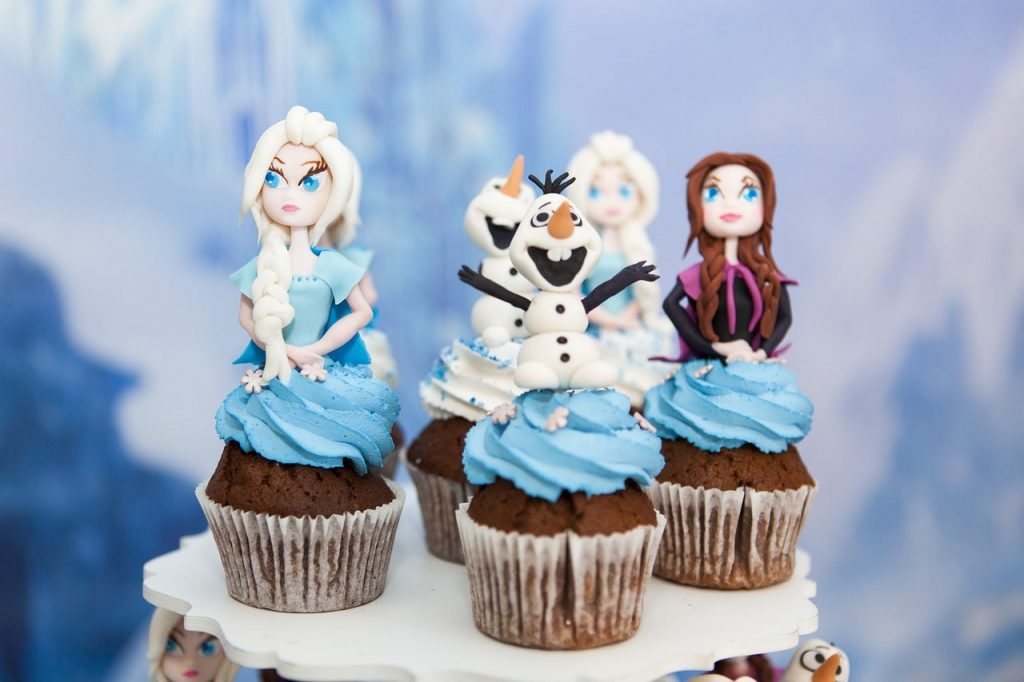 There's a huge variety of princess themed cupcakes! An easy and effective option is to buy, or make, simple cupcakes and to place them in princess cupcake cases! There are so many princess cupcake cases to choose from, in many princess colours, and in lots of princess themes!
My favourite princess cupcake idea is to buy mini princess dolls and use them as cake toppers! Swirl the tops of the cupcakes in buttercream icing, you can create different swirling patterns too. This frosting creates the beautiful ballgowns the princesses wear!
Then place the mini plastic dolls into the buttercream icing. You can use different colour frosting to make specific princess dresses! Once the party guests have eaten their princess cupcake, they can keep and play with the mini princess doll that was used in their yummy princess treat. Just make sure they don't eat them!
Princess Cupcake Cake
The Princess Cupcake Cake is a wonderful idea! It's very unique and you can adapt the cake for any princess themed party! The princess cupcake cake is easy to make, can be used as the all important birthday cake and can easily be divided to share between the party guests!
To make the princess cupcake cake, arrange cupcakes on a cake board in a ballgown shape, you would need around 35 cupcakes. There are loads of free tutorials to suit every princess theme! You can add a little bit of buttercream on the bottom of each cupcake to prevent them from moving on the board.
Once the cupcakes have been arranged in the princess ballgown shape, swirl buttercream icing to create the illusion of a princess ballgown! If you can see gaps in the dress once you've iced the cupcakes then fill the gaps with buttercream icing to look like one, big princess cake!
Decorate the cake with edible cake decorations, like flowers and glitter, to create the perfect princess cupcake cake!
Snow White's Apple Treats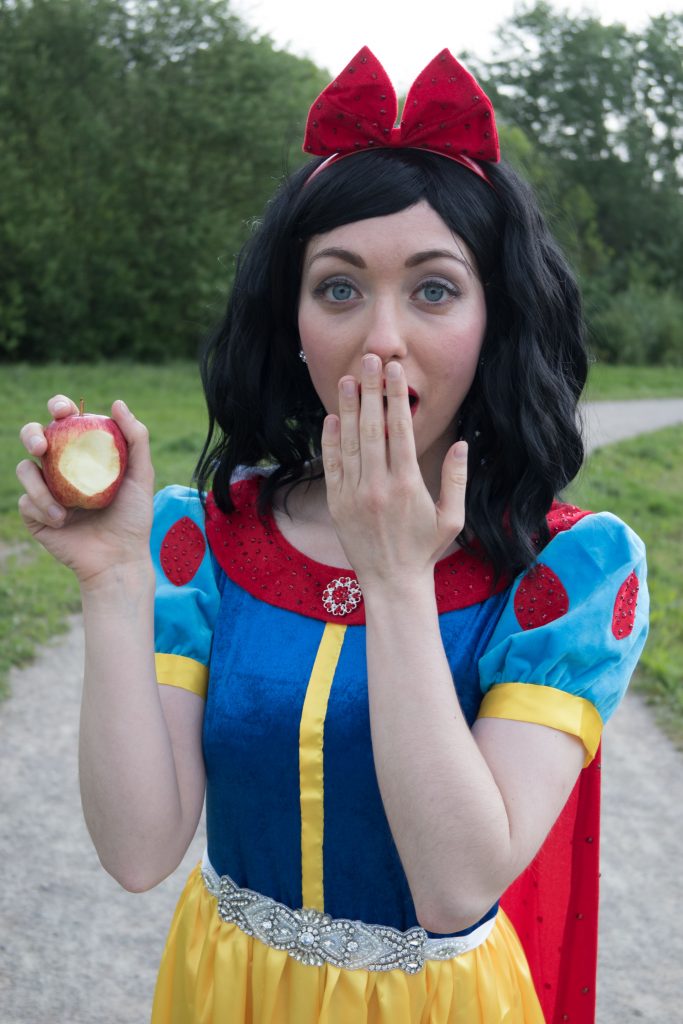 Apples are so sweet and yummy! They make a delicious and nutritious party treat too! A juicy, red apple would be a delightful party snack for a Snow White themed party!
You can place the crisp, red apples on the party food table and cut them when the party guests are about to eat. Or, have the apples pre cut and mix the sliced apples with other fruit to create a fruit salad! Add fruit juice to the fruit salad, like apple or orange juice, to prevent the sliced apples from going brown.
If you're slicing apples for party guests, I recommend using an apple cutter to make all the apple slices the same, even shape. An apple cutter is a quick and easy to use tool.
You can also use apples to make apple doughnuts and they're just as tasty! To make the apple doughnuts, cut the top and bottom of the apple and slice the rest of the apple horizontally.
Use a small, circular cookie cutter to cut circles in the middle of the slices, creating the doughnut shape. Then top the apples with either chocolate spread or strawberry flavoured yoghurt and decorate the apple doughnuts with bright and colourful sprinkles!
Princess Cookies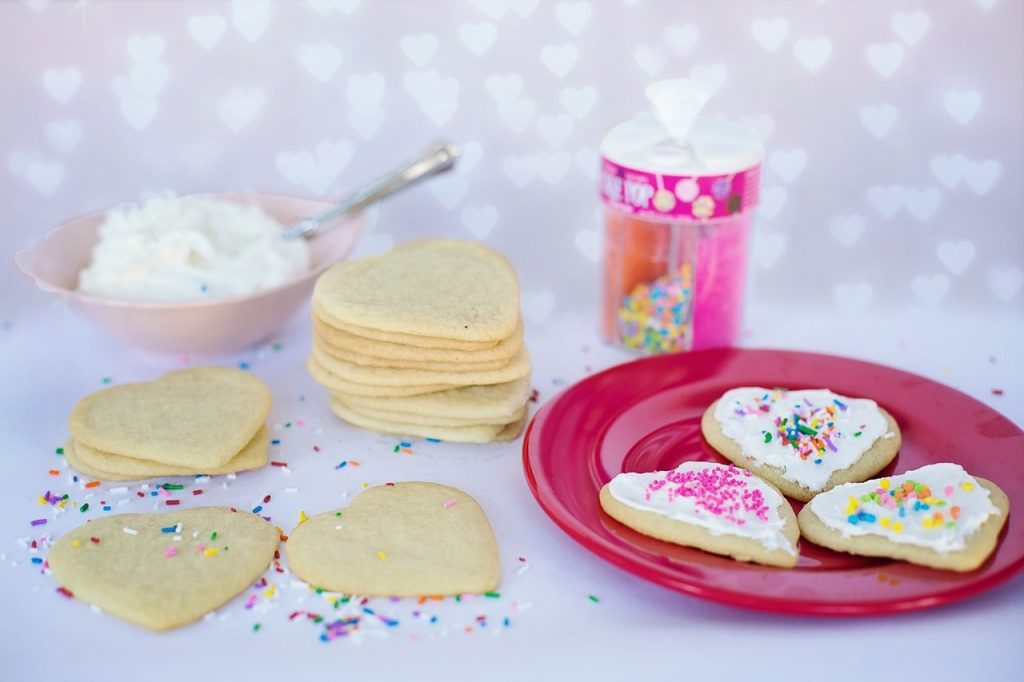 Princess cookies are so fun to make and there's a huge range that you can make! If you have cookie cutters in princess shapes, perfect! If not, then you can create princess shapes, like a crown and stars, with a sharp knife.
You can decorate the cookies in many different ways! You can cover the cookies in coloured icing and write the names of the party guests on the cookie with icing. This gives a lovely personal touch to the princess cookies!
There are cookies shaped in princess dresses and decorated with colourful icing to create all the different princess dresses! You can even let the party guests decorate their own princess cookie, which would make a great party activity too!
Simply get cookies in princess shapes and let the party guests use their imagination to create their very own princess cookie! They can decorate their cookie with coloured icing, hundreds and thousands, chocolate chips and chopped fruit like strawberries and banana!
Best Princess Party Food Ideas
Thank you for reading this article all about my favourite princess party food! They're all so yummy and perfect for princess party guests! Be sure to look at our other articles, including the best princess party drinks!